About us
bike@round is made up of people who do their jobs with passion, or rather who have made their passion into their job, who know bikes and the secrets of the places and itineraries they offer.

Our specialized guides are qualified in the various types of cycling with an excellent knowledge of the area. You can always count on them for a technical tip or for an answer to any query you may have about the places you are cycling through.

Our expertise is with you from the start to the end of the day. It is our job to deal with all the organisational aspects and coordination to make your stay unforgettable.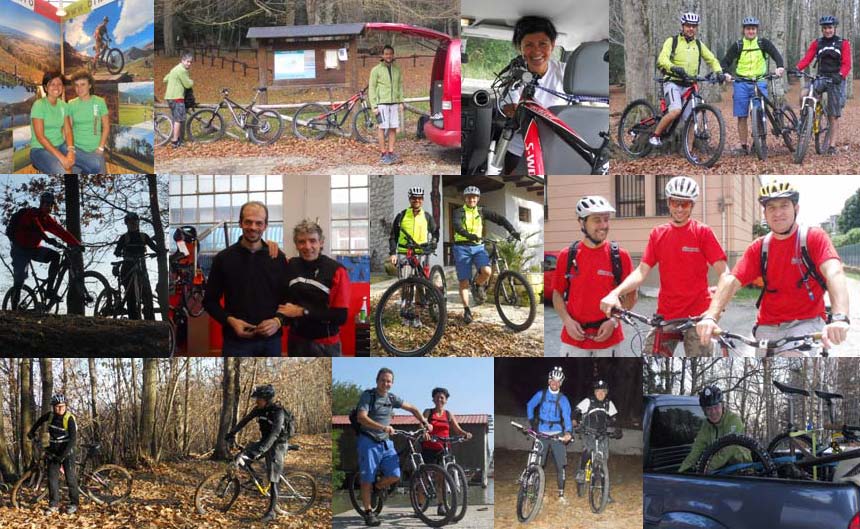 Staff
bike@round is made up of people who love biking and want to introduce you to the beautiful places where they do it, by organizing mountain bike, trekking bike and racing bike tours for you.
From the beginning to the end of your holiday our skills and knowledge are there to help you. It is our job to see to the organizational aspects and coordinate groups so that everyone feels at their ease.
We are always keen to satisfy your curiosity and we will always wait for those who lag behind because they like to look around them! Team spirit and getting along well in the group are key: a holiday is a way of discovering new places, but also a time for sharing experiences.



| | | |
| --- | --- | --- |
| Andrea Borin | | |
Cycling is … Freedom and fun but always challenging.
I've been doing it for over 20 years, from a road bike to downhill, venturing into cyclo-cross and crosscountry, and … why not, even a tandem, with bike@round I'll be taking you on fantastic rides.
Andrea è maestro della Federazione Ciclistica Italiana e campione regionale FCI di Ciclocross 2011 categoria M2 Master 19-44 (team Bicisport Ivrea A.S.D.) leggi tutto

Barbara Bellardi
Cycling is… Green: it's discovery, nature, freedom, movement, taste, fun ……… and last but not least, it's my favourite colour.
In bike@round I put together my curiosity for riding through nature savouring whatever it can give me, and my experience in organising events to see to all the details of your holiday.

Carlo Aribone
Cycling is... Quite simply my life!
I'm " Carlo the cyclist " for all two-wheeler fans... for bike@round I can put at your disposal twenty years' experience of working with bikes and my inquisitiveness towards the world.
Elisabetta Covini
Cycling is ... A way to travel, discover and be aware of places.
In my free time I'm a tourist on a bike, in bike@round I deal with contacts/relations with our customers/guests before, during and after their holiday, because that has always been my job.



| | | |
| --- | --- | --- |
| Marco Candellieri | | |
Cycling is … A very serious game, constantly putting yourself to the test, with no limits.
In bike@around my role is to choose the itineraries, to guarantee that every turn of the pedal gives you a unique thrill.
Marco attended course of Accademia Nazionale di Mountain Bike
| | | |
| --- | --- | --- |
| Roberto Bellucci | | |
Cycling is... Zest for life, tiredness and fun, determination and lightheartedness, solitude and friendship!
In bike@round I'm your guide: I will be pleased to pass on my enthusiasm to you and to lead you safely through... all the eating places!
Roberto attended course of Accademia Nazionale di Mountain Bike